With the current information available, our Academy summer programs will go forward as planned. Youth Drama Shakespeare, Teen Repertory, and Adult Shakespeare Intensive are enrolling now.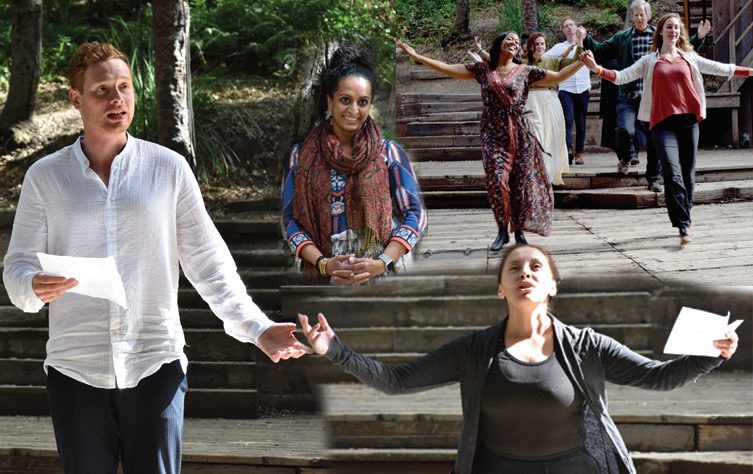 Theatricum Botanicum's Adult Academy of the Classics
The opportunity to engage in exuberant and inspiring lifelong learning is as core to Theatricum's mission as is the production of high-quality theatre. The Adult Academy of the Classics is a key component of this commitment. The Academy of the Classics provides a nurturing environment for students of all ages, backgrounds, and experience levels to engage with various aspects of theatre and performance. The Adult Academy specifically seeks to inspire adults at every level, experience, and expertise.
We offer classes for professional artists who seek to increase their expertise and/or comfort level with classical performance and elevated language. We offer programs designed to give an opportunity for non-professionals to reengage with performance through improvisation, movement, and/or scene work. We provide an opportunity for classroom teachers to integrate techniques and skills that excite their students as they engage with Shakespeare and performance. And most importantly, we offer programs where ALL of these groups can study and learn together. Diversity of background, age, and experience are cornerstones of Theatricum's values as an organization. We hope that you will join us for an Adult Academy class, workshop, professional development program, or intensive – we know that you will leave inspired!
Elizabeth Tobias
Education Director
ONLINE CLASSES
SHAKESPEARE INTENSIVES
SCENE STUDY
TECHNIQUE WORKSHOPS
INTERNSHIPS
Previous 2020 Classes
---
For more information about our classes, contact Frank Weidner at adult@theatricum.com or leave a voice mail at 310-455-2322.
A minimum, non-refundable 50% deposit is required. Full payment is due 5 days prior to first day of class. Space is NOT guaranteed until full payment is received. All payments are non-refundable.
---

Back to our Education Page