Special Events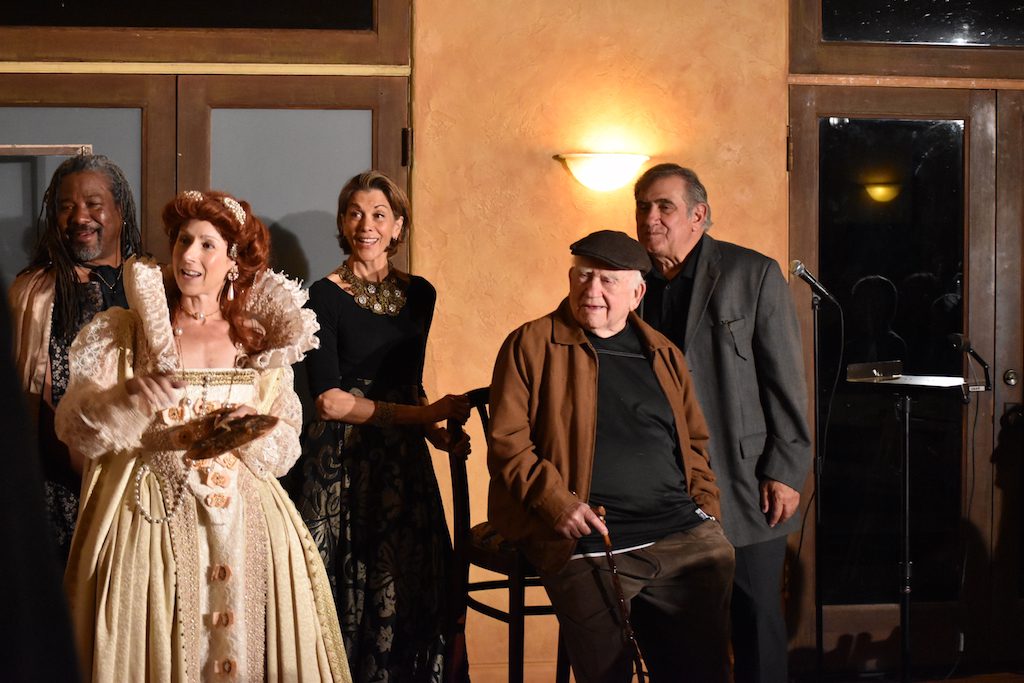 Our 2018 Annual Gala will be held on Saturday, December 8, 2018 at 5:30pm at the historic Mountain Mermaid, Topanga. A 13th-century themed evening, co-hosted by Wendie Malick and Ed Asner, with Beau Bridges and Emily Bridges.
Our 2018 Repertory Season has completed.
Check back soon for 2019!
Coriolanus
Written by William Shakespeare
Directed by Ellen Geer & Melora Marshall

A political allegory for today, Shakespeare's searing tragedy is a cautionary tale of political manipulation and revenge. Ancient Rome, a city where the one-percent rule, is led by a populist general who has nothing but contempt for the common people. Unable to reconcile his disdain for the citizens with his love of country, Coriolanus finds himself driven into the embrace of his sworn enemy.
Learn More | Buy Coriolanus Tickets
Join us for a special Prologue conversation with the cast before the show on July 29th from 3-3:30.
The Crucible
Written by Arthur Miller
Directed by Ellen Geer
Arthur Miller's classic parable of mass hysteria draws a chilling parallel between the Salem witch-hunt of 1692 and the McCarthyism which gripped America in the 1950s. The story of how the small community of Salem is stirred into madness by superstition, paranoia and malice is a savage attack on the evils of mindless persecution and the terrifying power of false accusations.
Learn More | Buy Crucible Tickets
Join us for a special Prologue conversation with the cast before the show on August 19th from 3-3:30.
The Chalk Garden
Written by Enid Bagnold
Directed by Susan Angelo
Members of the Geer family star in Enid Bagnold's classic about three generations of a family. Set in the Sussex seaside in the 1950's, Mrs. St. Maugham is an eccentric who spends her days gardening, but can't make anything grow. Her precocious teenage granddaughter, Laurel, has a penchant for lighting fires while her estranged daughter, Olivia, struggles to find her place. When the mysterious Miss Madrigal is hired as household companion, family secrets and intrigue unfold in a play that is as "poetic as Giraudoux, as zanny as the Marx Brothers, yet with the elements of a detective story."
Learn More | Buy Chalk Garden Tickets
Join us for a special Prologue conversation with the cast before the show on September 8th from 3-3:30.
Haiti
Written by William Dubois
Directed by Ellen Geer
Haiti tells the story of the 1802 uprising, led by Toussaint L'Ouverture, that gave Haitians back their country and rule. This rare revival of William Dubois' historical melodrama, strikes a sharp chord that reverberates throughout the ages. It explores the devastating legacy left by colonialism and slavery, overcome by the strength, resilience, and urgency of those brave enough to fight for freedom.
Learn More | Buy Haiti Tickets
Join us for a special Prologue conversation with the cast before the show on August 26th from 3-3:30. Free to all ticket holders.
A Midsummer Night's Dream
Written by William Shakespeare
Directed by Willow Geer
The natural beauty of our Topanga wilderness transforms once again into an enchanted forest, peopled by lovers and fairies. Comic misadventures, mistaken identities and unrequited love come together to create the Bard's most magical romp. The perfect experience to introduce your family to the world of Shakespeare.
Join us for a special Prologue conversation with the cast before the show on June 24th from 3-3:30.
Learn More | Buy Dream Tickets
Garden Buffet Dinner 
For a truly memorable evening, tickets may be purchased for a garden buffet dinner held prior to select performances of Midsummer Night's Dream.
"What hempen home-spuns have we swaggering here, So near the cradle of the fairy queen?" Puck, III, I
Buy Garden Buffet Dinner Tickets
Concerts
Founded in 1979 in Los Angeles by John Walz and Edith Orloff, this renowned ensemble has played more than 1,000 concerts in the United States, Canada, and Europe. In addition to touring, they serve as trio-in-residence at the Idyllwild Arts Summer Festival southern California. Buy Tickets for September 7th 2018
Family Fun Days!
Music and theatre for the whole family to enjoy.
Creative Playground
Creative Playground offers interactive theatre in-the-round performances designed for audiences 9 years and under. These classic tales are fun for the whole family! Buy Creative Playground Tickets
Kids Concerts
Music is a key part of Theatricum's roots, going back to the early days of free concerts with Pete Seeger and Arlo Guthrie. Concerts remain a staple at the Theatricum today, featuring acclaimed musicians and songwriters. You can't find a more beautiful place to join fellow music lovers and listen to the melodies that move you. Buy Kids Concerts Tickets
More About the Theatricum
Season Subscriptions
Don't miss a moment this year.
Group Sales
Attending with a group of 10 or more?
Contact Constance Lopez by email at constance@theatricum.com or by phone at (310) 455-3723 for Group Rates and to make reservations for your party.
Discounts
Theatricum offers discounts for children, seniors, military veterans, teachers, AEA members w/ ID.
Accessibility
Theatricum is a fully ADA compliant venue.
Box Office Hours

Pre-Season, April 10th to June 1st
Tuesdays – Sundays, 11am to 6pm
Main Season, June 2nd to October 5th
Tuesdays – Fridays, 11am to 6pm
Saturdays & Sundays, 11am to 1pm
On show days, Box Office will open 1 hour prior to show times and close 30 minutes after show time.
(During this time, we will not be able to answer phone call or return phone messages.)
Call the Box Office 1-310-455-3723
Box Office Policies
All tickets may be purchased with cash, check (payable to Will Geer's Theatricum Botanicum), VISA, MasterCard, Discover, or American Express.
All tickets are considered sold at the time of purchase, and once the sale is final, we do not offer refunds. All tickets must be paid for at the time of reservation.
Exchanges are offered if they are made at least 24 hours prior to showtime.