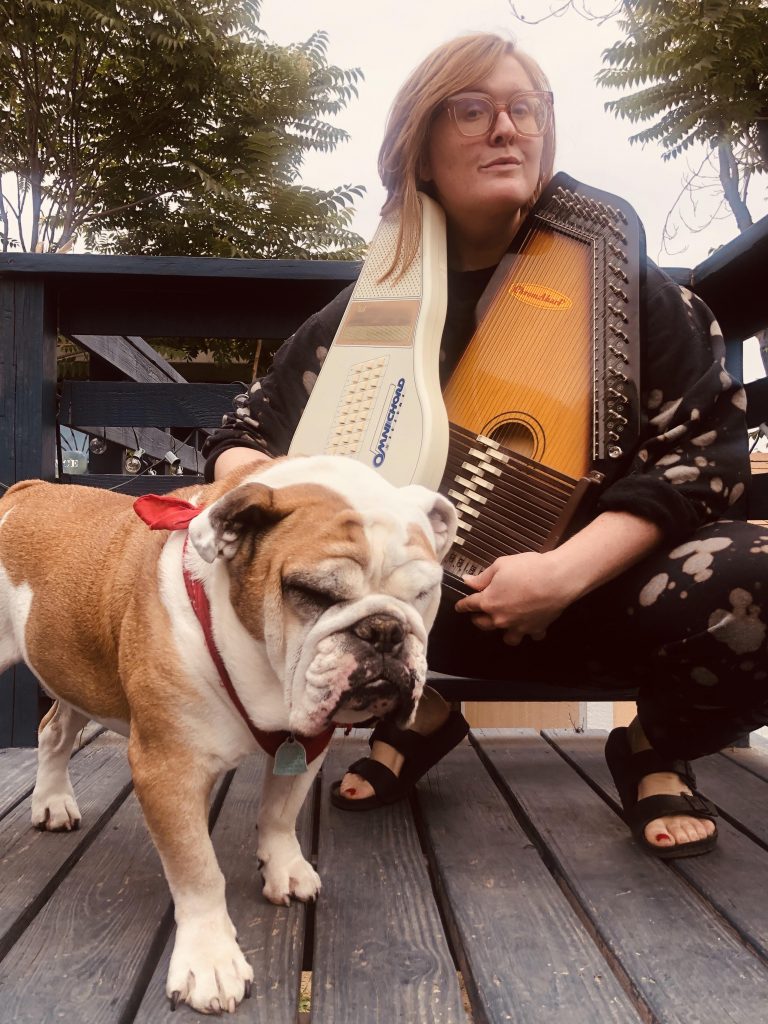 Instruments of the World w/Liz & Special Guests
AGES: 12-14 years old
DAYS Tuesdays and Thursdays
TIMES: 10:45-11:45 am, PDT
DATES: July 21 – August 6
LOCATION: Online, via Zoom App
TUITION: $150
There's so much more to making music than guitar – though we do love the guitar! Explore instruments from all over the world with Liz and a bunch of her talented friends. Folk instruments from all over the world, pedals, loopers, unusual electronic instruments, drum machines, and the wide, wonderful world of synths! We'll learn about a variety of different musical traditions, hear performances from experts and enthusiasts, and even learn to make an instrument.
SPECIAL GUESTS
Jonathan Quant – Hula dancer, chanter and student of traditional Hawaiian instruments for 25 years
Shih-Wei Carrasco-Wu – Taiko drum and shakuhachi flute player; bandleader of "Red Eye 2 Tokyo"
Jason Medina – Guitar pedal expert/enthusiast; current & past projects include Strange Pursuit, D.A. Stern, Part the Clouds, Obliques and many more
Marty Sataman – Vintage modular synth master; projects include Upsilon Acrux, Neo-Globs, Boom Bip, Bad Dudes, Red Reign, Jail Weddings and many more
Liz Eldridge is a writer, actor, musician, stand up, and educator based in LA. She studied classical voice at the Peabody Conservatory but dropped out to sing in punk and country bands. She's self taught on a variety of instruments and apply my educational background in Anthropology to the study of American folk music traditions & unusual synth gems. She wrote, composed, and starred in "Lydia Trueblood: the Black Widow of the Atlantic Coast," mining the American Murder Ballad tradition and featuring a two person cast on ukulele, banjo, harmonium, trumpet, and accordion. They won the DOMA Award for Best New Musical at Hollywood Fringe and had their world premiere at Edinburgh Fringe. Some of the music projects she's currently involved with include Many Distant Cities, D.A. Stern, Sometimes Nancy, Red Reign (King Crimson tribute), Supercreeps (David Bowie tribute), and We, Hazlewood (Lee Hazlewood tribute). More info at lizeldridge.com
---
For more information about our Youth/Teen Classes, contact Cindy Kania-Guastaferro at theatricumyouth@gmail.com or leave her a message at (310) 455-2322
Maximum students – 15. Enroll today!
Multiple Enrollment Discount: Enroll your student in multiple classes, and save $25 off your tuition in every additional class! To receive the discount, please select "Pay By Check" during enrollment below. After enrolling, call our office at (310) 455-2322 and let them know you'd like to enroll in multiple classes and save!
If your family is facing economic challenges because of the COVID crisis but your student is passionate about participating in this program, please contact Cindy Kania at the email above as we have some COVID scholarships that we are able to share.
Enroll Below!
Return to Youth/Teen Classes